She was known by parents as the "Drill Sergeant," and she was the swimming instructor of last resort for kids who made quick and defeating work of the more cheerful and easy-going local swim teachers. People said she could teach anyone to swim. A wooden fence surrounded her pool, and parents had to say goodbye to their kids at the gate. No observing swimming lessons. You dropped your kid off, and by summer's end, comes what may, little Johnny or Susie could—and did—swim. Except Eliza. After the second or third lesson, the backyard gate opened, and the Drill Sergeant nudged my child toward me. "I can't teach her," the Drill Sergeant exasperatedly said, "She's on her own." With that, the gate shut, and Eliza looked up at me with defeated eyes.
With no other good options, I began my brief career as a swim instructor. Eliza and I would head to the pool at the Y, and with excruciating slowness and mind-numbing repetition, we would start at one side of the swimming pool, I would back away from her one foot at a time, and she would dog paddle with abandon to reach me until we made it to the other side. Every time—every time—I let go of her, the expression on her face became a mixture of confusion and fear, as if, no matter how many times we'd done this before, it was a surprise to her to be untethered in the deep. Every time she reached me after a few seconds of flailing, the relieved grin on her face and the relaxation of her brow made my heart melt. And somehow, by summer's end, Eliza could finally swim.
In Genesis today, we read the first half of the punchline of the story of the first man, the first woman, the fruit, and the serpent. Before today's reading, the serpent entices the man and the woman to eat of the fruit of the knowledge of good and evil, and in the verse immediately prior to today's passage, we are told that, upon tasting the fruit, "the eyes of both were opened, and they knew that they were naked."
Today, God appears and begins to reveal to the man and woman the result of their decision to eat the fruit. Christian theology has traditionally interpreted this as God's punishment for disobedience, the "original sin" that plagues humanity to this day. I have preached on that interpretation more than once. Instead of that, today I share that the ancient rabbis sometimes read this passage differently, not as sin and God's retribution for sin, but as the primeval story of the emergence of human consciousness. In that case it is, in other words, the account of our divergence from mere instinct and reactive living. It is the story of Adam and Eve becoming human.
If Genesis 3 is a story not of original sin but of the dawn of human self-awareness, then the "curse" we begin to read about today is not punishment, but rather simply an explanation of what the experience of living entails for human beings, for creatures who have God-like consciousness but frail and mortal faculties and bodies to process and deal with that consciousness. After eating the fruit, like God the man and the woman can remember the past and imagine the future. They can hope, and dream, and plan. But unlike God, they cannot ensure that any of their hopes will flourish. The man and the woman will be stymied. Their memory will include disappointment. Their hope will be dashed. Their joy will be preempted by sorrow. This is the "curse" they unwittingly choose along with the forbidden fruit. This is what God warned them against. When they choose self-consciousness, with it comes the consciousness of loss. In a word, the man and woman introduce into their lives, grief.
Grief is a quintessentially human experience. That's not to say that other animals don't encounter grief. Famously, elephants grieve their dead, but when we observe them doing so, we say that, to that extent at least, elephants seem quite human. Grief is the crushing realization that everything in our lives, including our lives themselves and the lives of those we love, is transient. Unlike God, we and our world are ephemeral–the realization of which crushes us–which is why in the primeval story God so wants to protect us from this knowledge.
It is fitting that Genesis 3 is appointed for today, as we emerge from the COVID pandemic and begin to take stock of the past fifteen months, because like Adam and Eve opening their eyes in the garden, we have a dawning recognition of just what we have so recently lost. We've lost small things: discrete holidays with loved ones and friends, a summer vacation. We have lost momentous things: a graduation, a job. We have lost precious things: loved ones to the virus, or to the ceaseless other ravages that continued while we were cloistered from one another. And we have lost intangible things: Our blessed illusions of certainty about the future, our confidence that our carefully-constructed life plans will come to fruition, and even our faith in our competence to navigate the world.
The recognition of all these losses cascades over us, young and old. Psychologists call this deluge of loss cumulative grief, and it can drown us. There is a limit to the human capacity to grieve. And we have reached it. We find ourselves unable to process all of our individual and collective loss, and we see the effects of our inability all around us. Acts of random violence—explosions of frustration and powerlessness in the face of loss—are rampant on airplanes, against ambulance workers, in supermarkets, and elsewhere.[i] Incidence of societal depression has tripled.[ii] Stunningly, more than half of the young adult in the United States age 18-29 report chronic feelings of hopelessness, as they grapple with the loss of both their formative experiences in the past fifteen months and their plans for the future.[iii] And in one broad study of a cross-section of the population, seventy-three percent say that their mental health has deteriorated. Researchers call it "the pandemic within the pandemic."[iv] So, what are we to do?
Last week's episode of the radio show This American Life was on grief, and one section, by producer Sean Cole, was on cumulative grief. During the pandemic, Cole lost two parents, saw his serious relationship end, and endured the loss of that same girlfriend's pregnancy. He is the poster child for cumulative grief. Cole, like so many, isn't sure how his future will look. But at the end of telling his story he does come to this conclusion, "I was asking myself why we were all even here, what is was all for. I don't have any faith or doctrine. I'm not even secure enough of my understanding of the cosmos to be an atheist. But I did come up with an answer. It's simple…The reason we're all here, I think, is to get each other to the other side."[v]
Sean Cole spent time at the bedside of two dying parents, and on one level he means we are to help one another approach actual, physical death. But on another level, he is talking about all of our deaths, large and small…all of our losses, all of our griefs. In Genesis 3, the dawn of consciousness nearly drowns the man and the woman in grief as it casts them from paradise, but it does not cast them from one another. Even in their loss, they will walk forever through life together. They will help one another get to the other side.
When little Eliza was in that swimming pool, every time she became aware of the depth, no matter how often it happened, confusion and fear began to pull her under. Only by reaching out her arms and knowing they'd be met by one who loved her was she able to stay afloat and eventually learn to swim. That is an apt metaphor for our predicament. The only way we can keep from drowning, the only way we can move through grief, inch by inch; the only way we can discover hope and encounter joy amidst loss; the only way we can get to the other side, is together. And not as strangers, but as sisters, brothers, friends who trust.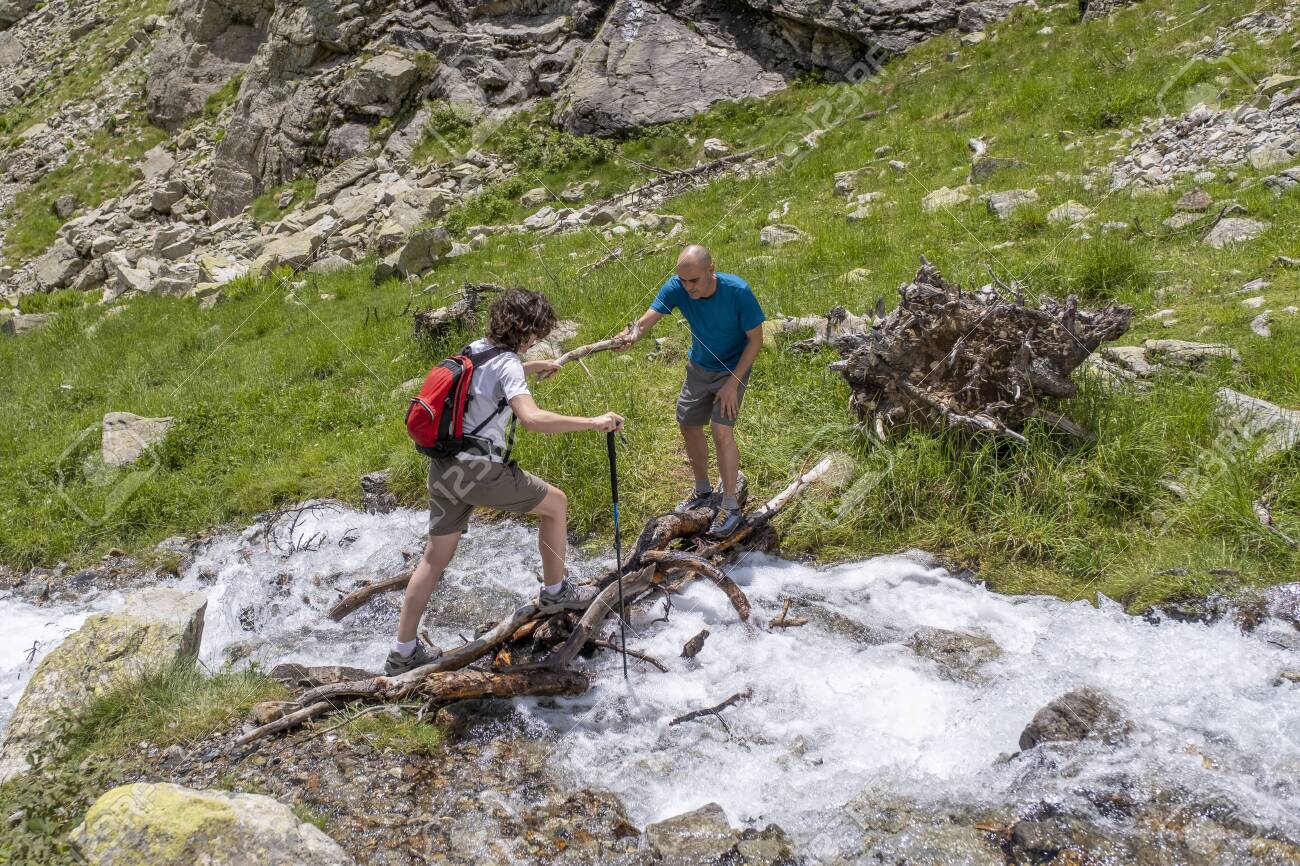 I worry less these days about viruses and more about our societal willingness to castigate, and cancel, and demonize, and celebrate another's mistake or error.  I worry that we, both left and right, have become increasingly puritanical and self-righteous, so quick to require a litmus test of language and belief.  These reactions, like the physical violence I described earlier, are another futile attempt to fend off grief by lashing out.  In the long run, they do not work.  I worry because each time we do these things—each time we narrow our communities and dismiss the other—we decrease the shoulders on whom our collective grief can rest.  We lose the hands that can reach out to us as our losses pull us under the waterline.  This is what Jesus is telling us in the Gospel today, as his own family and friends lash out at him.   
We, as the Church, can provide a different witness. We can prevent one another from drowning in our grief. We can—we must—extend our arms in love to the one who is flailing. Because that is why we're here, to help each other get to the other side.
---
[i] https://www.npr.org/2021/05/28/1001385922/the-faa-has-seen-a-significantly-higher-number-of-unruly-passenger-reports-in-20; https://morningstaronline.co.uk/article/b/more-10000-incidents-violence-aggression-and-assault-ambulance-staff-during-pandemic; https://www.washingtonpost.com/business/2021/05/03/king-soopers-shooting-trauma-grocery-workers/
[ii] https://www.republicworld.com/lifestyle/health/pandemic-within-pandemic-covid-made-people-less-active-tripled-depression-says-study.html
[iii] https://www.cnbc.com/2021/05/10/51percent-of-young-americans-say-they-feel-down-depressed-or-hopeless.html
[iv] https://www.republicworld.com/lifestyle/health/pandemic-within-pandemic-covid-made-people-less-active-tripled-depression-says-study.html
[v] Cole, Sean, "When It Rains," This American Life, episode 738, Act Two.