Well, here we are gathered for the Holy Eucharist on All Hallows Eve—Halloween—the day before All Saints Day, when the ghouls and the ghosts romp. It is well-known that I love all things Celtic, and the Celts were preoccupied by this day, when the veil became especially thin and things spooky could pass over from the other side to our world. I was tempted to suspend the lectionary and preach on Halloween, but then I worried that my esteemed predecessors in this pulpit might haunt me for it, so I've decided instead merely to open this sermon with a few corny Halloween jokes:
Why don't mummies have friends? Because they're too wrapped up in themselves.
Why did the vampire read the newspaper? He heard it had great circulation.
Why did the headless horseman go to business school? He wanted to get ahead in life.
Why do skeletons have low self-esteem? They have no body to love.
There are some real stories from Christ Church Cathedral lore that are worthy of Halloween.  The first is, of course, of the body supposedly buried somewhere on our campus.  Only Ardell and Canon Logan knew the who, what, and where, and they're both gone now, so the mystery endures.  The second story is of Jean Richardson, beloved wife of beloved Dean and later Bishop Milton Richardson, who upon her very first worship service at the Cathedral, walked up the chancel steps toward the altar, glanced at the stained-glass window above the east choir stalls, and gasped, "What kind of church is this?!?"  The window she spied murderously declared—and declares, "Hang all the law and the prophets!"  With images of creepy gallows, Mrs. Richardson must have thought she'd walked into a Halloween horror film.  Luckily, someone quickly pointed out to her the top half of the window, usually obscured in shadow, which provides the first portion of the quoted bible verse: "On these two commandments…hang all the law and the prophets."
That's a relief!  Our window quotes Matthew's version of today's Gospel passage from Mark, in which a genuinely-searching scribe approaches Jesus and asks which is the most important of all God's commandments.  Jesus answers, "The first is, 'Hear, O Israel: the Lord our God, the Lord is one; you shall love the Lord your God with all your heart, and with all your soul, and with all your mind, and with all your strength.' The second is this, 'You shall love your neighbor as yourself.' There is no other commandment greater than these." 
Or, as Matthew says, "On these two commandments hang all the law and the prophets." In other words, our Lord is telling us unequivocally that nothing in all the utterances of God takes precedence over these. They are the key by which everything else is to be interpreted. All else in scripture hangs on what Jesus says today. The scribe agrees, and so Jesus says to him, "You are not far from the kingdom of God."
That's a most interesting coda, from the mouth of Jesus. It is not that following these two commandments is some dogged duty; it isn't even that fidelity to them earns one's way into some ethereal heaven. The kingdom of God in Mark's Gospel doesn't refer to heaven; it means living in communion with the divine: connecting to God in the here-and-now in ways that grant vitality and light, and then living our lives in light of that reality. What Jesus says to the scribe, and what Jesus means for each and every one of us, is that if we desire to be near the kingdom of God—if we want to encounter the grace, power, and presence of the divine—we must love God with our hearts, our souls, our minds, and our strength; and we must love our neighbor not just a little bit, not occasionally, and not with some small part of us, but as we love our very selves. When we do these things—when we orient our lives in these ways, toward God and neighbor—then we will have entered into the orientation of Godself, like stepping into and floating upon the current of a river. We will rest our lives upon the kingdom, and that makes all the difference.
I'm glad I didn't disregard the lectionary today, because this turns out to be one of those weeks when the Gospel and Old Testament texts truly speak to and through one another. We might ask, "What does it look like to love God and one's neighbor?" And Holy Scripture presents us with the story of Naomi and Ruth.
Naomi travels with her husband and two sons from her home to the country of Moab to escape a famine. There, the men in her family all die. Shellshocked and presumptively alone, Naomi makes plans to return to her home, and she bids farewell to her widowed daughters-in-law. The younger women are Moabites. Despite the deaths of their husbands (Naomi's sons), they have kith and kin in Moab. If they will look out for themselves and tend to their lives, they will be o.k. And yet, as Naomi departs, Ruth takes hold of Naomi and offers words that, through the eons, still rend the heart and buoy the soul. Ruth says to Naomi:
"Do not press me to leave you or to turn back from following you!  Where you go, I will go; where you lodge, I will lodge; your people shall be my people, and your God my God.  Where you die, I will die."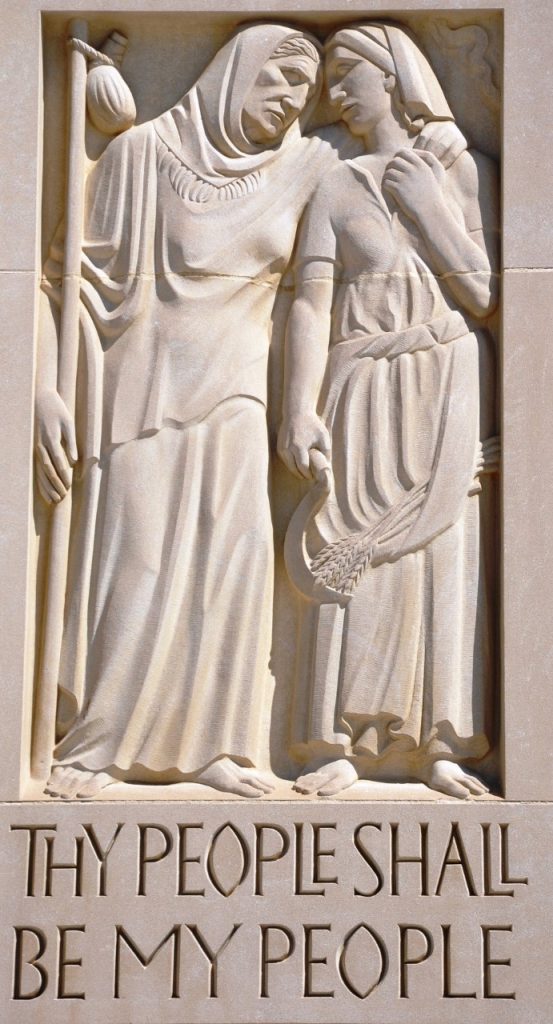 Ruth recognizes that love for God and neighbor is the recognition that the three—God, neighbor, self—are in the end not separate, but the same. Loving God with heart, soul mind, and strength is loving the neighbor. If one does not love one's neighbor, one does not love God. Loving oneself is loving the neighbor. If one does not love one's neighbor, then one fails grant the self the joy of such love.
And loving neighbor is not academic or theoretical. It is as it is for Ruth. It is cleaving to the one in need in acknowledgement that we both extend from God and from God's love. When the neighbor despairs, we despair. When the neighbor rejoices, we rejoice.
There have been times in each of our lives when we desperately needed to hear someone utter Ruth's words in solidarity with us: "Where you go, I will go. Where you lodge, I will lodge. Your God will be my God, and your people will be my people." To hear such words means that we are not alone; that we have fellow travelers on this journey with us; who will carry the load alongside us; who will not walk away. To hear such words means we have neighbors. To speak them means we are blessedly near to the kingdom of God.
Ruth is a Moabite. In the fifth book of the Torah, Deuteronomy, Moabites are not included as neighbors. The Hebrew scriptures initially ostracize Moabites. Moabites are banned from the presence of God forever. They are anathema.[i] But then the people of God, through iconic Naomi, actually meet a Moabite and discover that Ruth is not only their neighbor, but their salvation. By the Middle Ages, the rabbis had taken Ruth's speech and turned it into a catechism explaining what it meant to be a good Jew. In other words, against all odds the Moabite became the model for what it looks like to be a child of God. Miracle of miracles. That kind of transformation in understanding, that kind of recognition of our need for one another across all divides, is only possible when we approach Jesus as the scribe and humbly ask the Lord, "As we walk through this world, what is the most important thing of all?" We must love the lord our God with all our heart, and all our soul, and all our mind, and all our strength. We must love God with everything, and that means we must love our neighbor as ourselves. And then, the kingdom of God will be here.
---
[i] Deuteronomy 23:3