"What will you preach?" That is a question that has been circulated on every Zoom clergy group of which I am a part these past few days. What does one say on Christmas Eve this year? How does one relate the Gospel promise of Christ's Nativity in a world so uncertain, an environment so fraught, a winter so unrelenting in so many ways?
Even in balmy Houston, we have experienced a metaphoric winter nine months long, in which the coronavirus has put our lives in deep freeze.  Indeed, one consultant I read has called this our existential "Ice Age." As after a blizzard, the world has ground to a halt.  Like many of you, in a year's time I have not seen loved ones beyond those who live in my household.  I have not sat face-to-face with most of my friends or colleagues in almost that long.  And lest some still think that COVID-19 is only a half-step more severe than the common cold, know that I have conducted Last Rites through a computer screen for someone dying of this insidious virus alone in a hospital room, while his family wept through their phones.  It has been winter, indeed.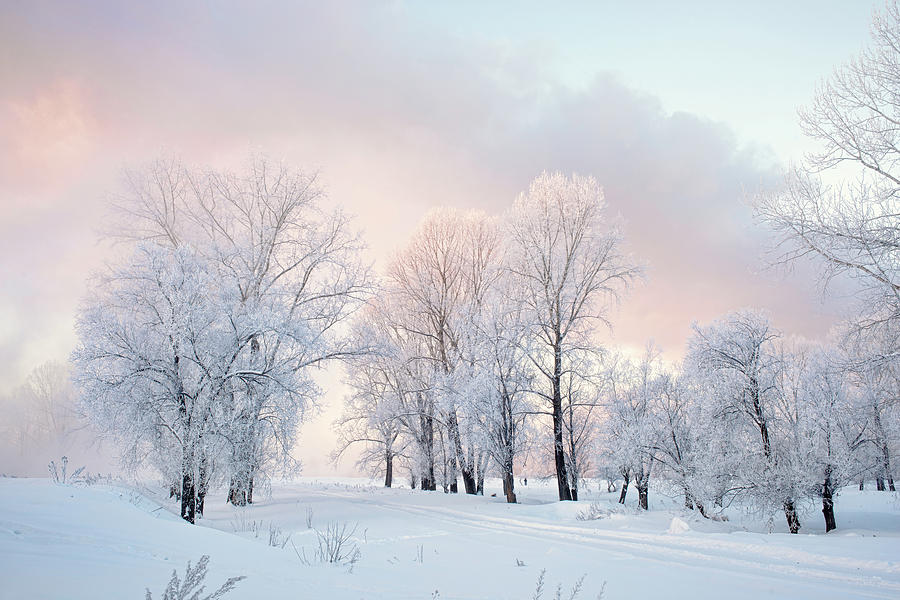 In an otherwise even-keeled world, the coronavirus would be enough to capsize us. But our world is not otherwise even-keeled. There is an ambient anxiety coursing through this season. It distorts our thinking, making us uneasy, distrustful, prone to respond poorly and inaccurately to events swirling around us like a wintry mix. It is as if we've gone through the looking glass, or, perhaps, into the wardrobe.
In such circumstances, how can Christmas come? What does Christmas even mean? And, what word of hope can a preacher offer? No theology will do. It will all seem too esoteric, too academic, too bloodless for the visceral days we presently endure. So instead, let me tell you a story. It's a story you'll remember, perhaps almost as familiar to your childhood as the Nativity story itself.
Lucy, and then her siblings Peter, Susan, and Edmund—the Sons of Adam and Daughters of Eve—find themselves transported from war-ravaged England into the equally-threatened land of Narnia, caught in the wintry grip of the White Witch. In Narnia, everything is frozen. Life is ground to a halt. Mr. Tumnus, a faun, explains to Lucy that this winter is as joyless as it is eternal. "Always winter and never Christmas, think of that!" Mr. Tumnus says to Lucy, scarcely believing it himself.[i] The long winter has affected Mr. Tumnus. He, himself, has gone to work for the White Witch, gradually allowing his thinking to be distorted and his actions to collude with hers.
As the story goes on, Edmund, Son of Adam, also falls prey to winter's confusion and the White Witch's spell, but the other three children hunker down and hope for better. And then, one day as the three children (along with Mr. and Mrs. Beaver) hide out in a snowdrift, they hear the jingling bells of a passing sleigh. They are terrified that it is the White Witch, caught up to them at last, and Mr. Beaver sneaks out to take a look. Soon he returns, and dancing outside their warren he says, "Come on! Come and see! This is a nasty knock for the Witch! It looks as if her power is crumbling! Didn't I tell you that she'd made it always winter and never Christmas? Didn't I tell you? Well, just come and see!"[ii]
The children climb a snowy hill to find there, atop a massive sleigh led by mammoth reindeer, Father Christmas. He is not Clement Clarke Moore's jolly elf, but a spirit both joyous and solemn. The reader is told, "He was so big, and so glad, and so real, that they all became quite still."
When Father Christmas, finally arrived in Narnia, speaks, his words are a miracle, for the children, for C.S. Lewis' readers in war-torn England, and for us today in the midst of our own travails. Father Christmas says, "I've come at last. She has kept me out for a long time, but I have got in at last. Aslan is on the move. The Witch's magic is weakening."
Father Christmas gets it exactly right. He recognizes that, however desired he is—however needed the Spirit of Christmas that buoys our own spirits—Christmas only comes because Aslan is on the move. And in Lewis' fantasy world, Aslan is, of course, the Christ, the begotten of God, the Incarnate Lord whose entrance into the world breaks the grip of any winter and thaws any heart.
Before he leaves the children, Father Christmas does what Father Christmas always does: He gives them presents. But he tells them, "These…are tools, not toys. The time to use them is perhaps near at hand. Bear them well."
The gifts are specific to each child, and they are each items that empower the children to support Aslan, to play their own unique part in thawing winter, to usher hope into the world.
This is our message on this Christmas Eve. Christmas is here, because Aslan is on the move! Christmas is here, because this night the Christ child is born. Try as it might, the winter of the world this long year past begins to break. There are signs of the thaw all around us.
And, beyond the trinkets and baubles we may give and receive this night, we are each given, by God, gifts beyond measure that we must bear in the world to strengthen hope and further grace. Christ is born, and that includes in us, as Christ's hands and feet and heart that can use our abundant gifts to quell anxiety, abate fear, lift spirits, and share love.
Christmas this year lacks the frivolity of years past. Clement Clarke Moore's jolly Santa seems out of place and out of touch with our reality. But C.S. Lewis' Father Christmas does not. Solemn yet joyous, Father Christmas knows the truth. He knows that, though there are chilly days yet to endure, the news arrives each day now that the icy grip of winter is losing its hold. Aslan is on the move! Christ is born! And the way we choose to wield the gifts God gives us has a real impact on what happens next. May we bear those gifts with the forthright courage of children, who always teach us so much at Christmas time. May we care, and love, deny the White Witch wherever she appears, and be agents of the Incarnate God. As Father Christmas rides out of sight, he calls out to the children in words inspiring and true: "Merry Christmas! Long live the true King!"
---
[i] Lewis, C.S. The Lion, the Witch, and the Wardrobe, chapter 2.
[ii] Lewis, C.S. The Lion, the Witch, and the Wardrobe, chapter 10.