Today we read the inauguration of David's young son Solomon as King of Israel, and we read of Solomon's incredible request of God: not for riches, or revenge against his enemies, or for expanded power, but for "an understanding mind to govern [the] people, able to discern between good and evil." Solomon's request pleases God, and God responds, "Indeed, I give you a wise and discerning mind; no one like you has been before you and no one like you shall arise after you."
And thus begins the illustrious career of wise King Solomon, known the world over. Immediately after today's reading, 1 Kings shares the famous story of two women who come to the king, both claiming to be the mother the same child. In his sagacity, King Solomon commands that the child be cut in two, granting each mother one half a baby. Of course, the real mother recoils at this notion and relinquishes her rights to save the baby's life, and thus wise Solomon discovers the true maternal identity and returns the baby to its home.[i]
Solomon's discerning wisdom was so great that tradition ascribed to him authorship of the biblical books of the Proverbs, Song of Songs, and Ecclesiastes. Never mind that Solomon almost certainly didn't write any of those books. It is a testament to his legendary wisdom that, when an author is needed for the Wisdom corpus in our canon of scripture, Solomon gets the nod.
There's only one problem with all of this: the real Solomon was not wise. He was a terrible, promiscuous, vain, and tyrannical ruler. Solomon was so self-absorbed and self-indulgent that after building the great Temple to God in Jerusalem—and committing himself to follow God in the mold of his father David—Solomon immediately abandoned the God of Israel and veered toward both abject hedonism and rank idolatry. He mocked the God with whom he'd made covenant and worshiped false gods.
Solomon also conscripted his own citizenry into forced labor for his many building projects, creating a virtually enslaved populace. In a sparsely-populated country, 1 Kings tells us that "King Solomon conscripted forced labor out of all Israel; the levy numbered thirty thousand men. He sent them to Lebanon, ten thousand a month in shifts; they would be a month in Lebanon and two months at home."[ii]
And, Solomon denuded the populace with crushing taxes they could not pay.
In the end, Scripture condemns Solomon with the words it reserves for the worst of rulers. 1 Kings eventually says that "Solomon did what was evil in the sight of the Lord."[iii]
Once we know all of this about Solomon, then even that legendary story of his wisdom—the one about the two mothers claiming the same child—reads differently. Rather than addressing them as a sage, we can see Solomon as a capricious tyrant toying with the distraught emotions of a mother, desperate to get her baby back. There is horror in that story, when Solomon blithely commands that the little child be cut in two.
Though 1 Kings tries mightily to maintain the notion of Solomon's wisdom alongside his foolishness, the proof is in what happened immediately after Solomon died. Without his domineering personality to maintain fear and order, ten of the twelve tribes of Israel immediately revolted against Solomon's son, and the nation of Israel was split forever.[iv] With that knowledge, we go back and re-read with irony God's promise to the young Solomon. God had told Solomon, "No one like you has been before you and no one like you shall arise after you." No kidding. Solomon was truly one-of-a-kind. The kingdom that David had labored so long to create was ripped asunder by the folly of the king legend credits with wisdom.
For anyone interested in either scripture or history, the story of Solomon is endlessly fascinating, but, as this is a sermon rather than a lecture, the question remains, is it also more than that? Beyond what it tells us about the distant past, does it mean anything for our own present and future?
I am a fan of the historian Barbara Tuchman, and her best book is The March of Folly. The book charts several historical events that move from promise to folly: the Protestant Reformation, the British loss in the American Revolutionary War, and the American morass in Vietnam. Tuchman shows in clear relief the markers along the way of each, where the actors could have and should have seen the looming disaster ahead. But those actors had such myopic vision, were so self-indulgent, and were so obsessed with the immediate that they failed to note the bigger picture and marched tragically into doom.
I have often thought that Barbara Tuchman could have added a chapter about King Solomon to her celebrated book. Solomon started with a kingdom that had, under David's canny leadership, positioned itself as mighty in its own right and as a power broker between larger kingdoms. Solomon must have shown enormous early promise, or else the chronicle of his God-given wisdom never would have emerged. And yet, little by little, decision by decision, he strayed from discerning wisdom. He squandered God's gift. He listened to untrustworthy voices that whispered not the truth or the good for the kingdom, but selfish motive and what Solomon wanted to hear. And in his comfort, his harem, his indulgences, his brutal exercise of power, Solomon paid attention only to what was immediately in front of him and ignored the long-term consequences of his actions. The result was folly, the destruction of all that had been entrusted to Solomon and all that he held dear.
Beyond a doubt, Solomon's story, like Tuchman's book, has much to say to our age and our society beyond historical note. There was a time, I believe, when we were wise, wisdom being defined, at least in large part, as the willingness to compromise for the common good, to seek truth and knowledge without subterfuge, and to embody the humility to acknowledge what we don't know, all to make the world in which we live —and which we all share—a marginally better place. Our wisdom was surely flawed, but it was something.
Today, too often, we fail in all these measures of wisdom. Compromise for the common good has been replaced by a self-righteous, rigid stridency on all sides, masquerading as virtue. Humility in the face of our ignorance has been replaced by the folly that we are all experts because we have read a few unsourced lines of text on the internet. Worst of all, the pursuit and dissemination of knowledge has been replaced by some with propaganda disguised as fact that seeks to obfuscate and confuse vulnerable people.
In all of this, we think we are wise, but we are too clever by half, and the results are tearing apart our societal bonds. I'm talking about all of us. I'm talking about me.
Collectively, our society is squandering God's gift and shedding wisdom for folly. And now, finally, the result is death. Every day, because of willful folly in the form of the politicization of the coronavirus and misinformation willfully disseminated about COVID vaccines, people are dying. A pandemic that could have been in its last days is instead, due to overwhelmed hospitals, imperiling even people who need medical care unrelated to COVID, all because we have lacked wisdom.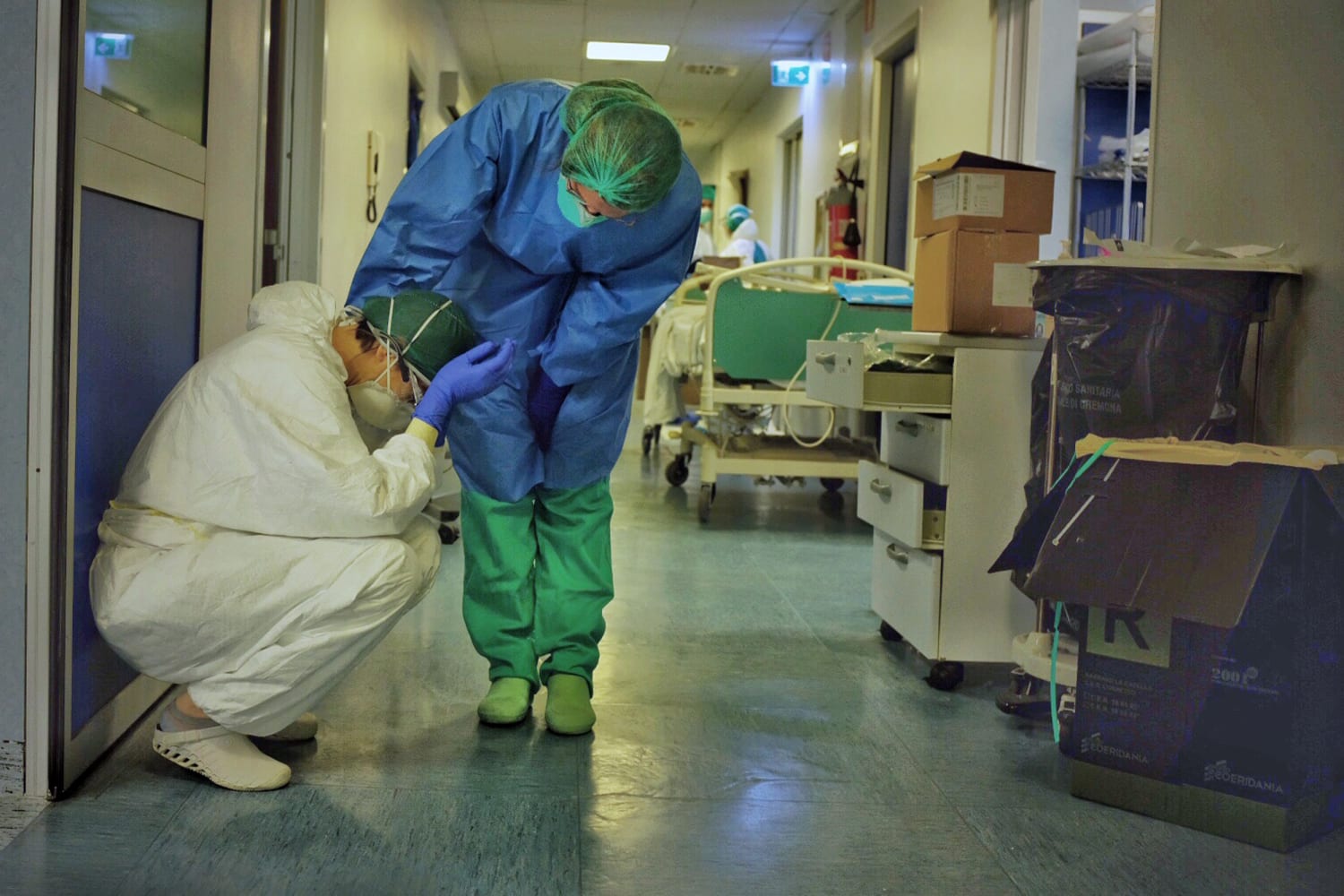 The question before us is, then, how do we reclaim wisdom?  Of us, what does wisdom require?  The key is found (as it is always found) in the Gospel.  Today, Jesus speaks to a confused crowd who misunderstand, and yet Jesus persists in proclaiming that which gives light and life.  In John's Gospel, Jesus does not, in his frustration, castigate or denigrate the crowd.  He won't play that game and devolve into folly.  He simply speaks, again and again and again, the truth in love.  Always the truth.  Always in love.  He moves people from where they are to a new place.  His message is the bread of life. 
No matter what the state of affairs today, I believe in the persuasive, transformative, redemptive, wisdom of love. Presiding Bishop Michael Curry wisely reminds us that "Love is not a sentiment. Love is a commitment to the common good."[v] I believe when the disciples of love—that's us—act and speak in ways that uplift our neighbors and our community rather than indulge the self, then wisdom will be reclaimed. If ever there were such a moment for such a Gospel it is right now. The biblical work "repentance" means "to follow another path." It also means "to rise above our own minds," which includes the mutually-destructive thought processes to which we are prone.[vi] In our relationships, in our politics, in our public health, we can arrest the march of folly and walk instead in the way of God's wisdom. We—us, here—can become the very bread of life to a starving, ailing world. To be that food, to offer light and life, is our sacred calling in these days. When we hear misinformation touted as fact; when we hear apprehension or fear of vaccines; when we encounter those, from any quarter, who seek to tear down and divide, let us be wise, and speak the truth in love. We are the Body of Christ. We are the bread of life.
---
[i] 1 Kings 3:16-28
[ii] 1 Kings 5:13-14
[iii] 1 Kings 11:6
[iv] 1 Kings 12, ff.
[v] https://www.pbs.org/newshour/show/following-the-way-of-love-through-divisions-upheaval-and-uncertainty?fbclid=IwAR0rI0RiX6iBcgTY0X8hy9vz4Hcs4R1yx4VjLbHzuIEzoimQhAwn9QFILpE
[vi] Metanoia in Greek