As a seminarian in Austin from 2000-2003, my friends and I would sometimes walk two blocks from the seminary for a cheap lunch at Red River Café. Another frequent diner during those days was UT quarterback Chris Simms. Simms would walk in and immediately command the place. He was tall and broad and had the look of someone carved into marble by the ancient Romans. Before college, Simms had been USA Today's national high school offensive player of the year and heralded as the future of the Texas football program. More than anyone I've ever seen, he looked like a quarterback.
Of course, Chris Simms wasn't the only quarterback at Texas in those days. For three years, Simms was locked in a battle with another Longhorn for Texas' starting position. During Simms' sophomore year, he and Major Applewhite, who was a year older, shared the QB position. As a junior, Simms won the starting QB spot from Applewhite outright. Applewhite spent the 2001 season as a backup.
While Applewhite kept the bench warm, Chris Simms catapulted the Longhorns to a #3 national ranking and the Big 12 championship game against Colorado.  It appeared that all the prognostications about Simms, and the look he conveyed at Red River Café, were about to reach their denouement.  But then everything fell apart.  The Longhorns fell behind 29-10 before Simms left the game with a finger injury.  It was then that the much smaller, ruddy, and supremely confident Applewhite came off the bench and led the Longhorns roaring back to within two points of victory.  Texas lost that game, but Applewhite won the starting spot in Texas's bowl game against Washington, and the 2001 Holiday Bowl turned out to be one of the most exciting football games I've ever seen.  Both teams were bloodied and bruised, and the lead changed hands repeatedly.  The Longhorns were losing with two minutes left in the game, but Major Applewhite was indomitable.  In the end, he orchestrated a come-from-behind victory with only seconds remaining.  It's one of the greatest comebacks in Longhorn history.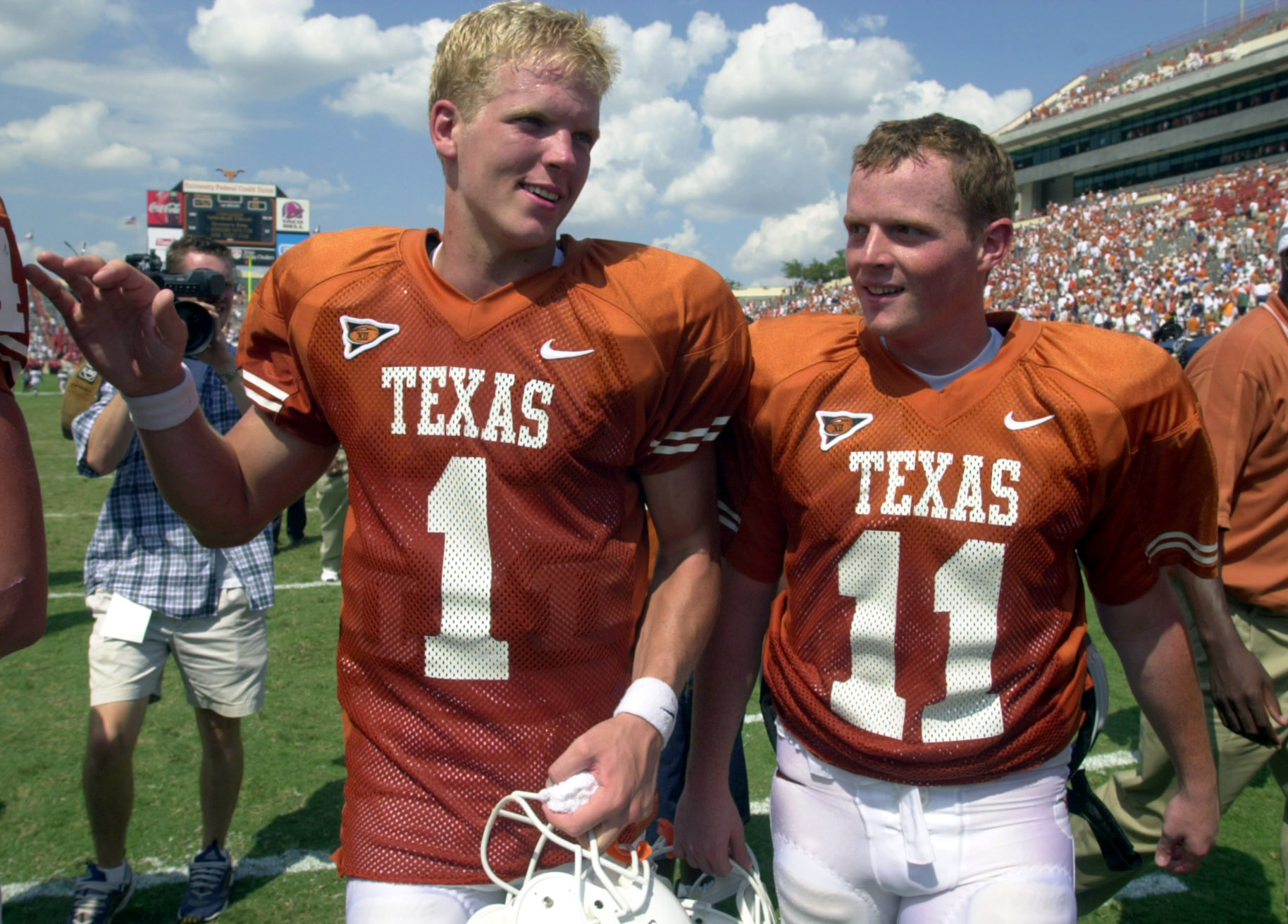 Do I tell this story to pander to a room full of UT fans? Heavens, no. I know full well when I broach the Chris Simms-Major Applewhite debate that I am as likely to anger half the room as placate the other half. I tell the story because, just as Chris Simms looked every bit the part of the ideal quarterback—big, athletic, attractive, commanding—Major Applewhite did not. Former Longhorn teammate Rod Babers describes Applewhite by saying, "He just wasn't an athlete. Have you seen Major Applewhite? Have you seen his body?…The pudgy…dude who was wide-waisted with the freckles and the helmet too big."[i] And yet, Applewhite repeatedly won the big games in the face of any odds. Babers goes on to say, "This is the guy going out there [week after week] and carving people up with a spoon."[ii]
I don't know if it's because Chris Simms looked like Adonis and towered three inches over Major Applewhite, or if it's because Major Applewhite was himself of ruddy complexion and outsized confidence like the biblical David, but something about their story has always reminded me a bit of King Saul and David, as they're about to face Goliath.
That's the story we read today from 1 Samuel. And like the 2001 Holiday Bowl, what a story! Where we pick up the reading, the Philistines have gathered before King Saul's army, and they have presented their champion, Goliath, for battle. Goliath, the bible tells us is "six cubits and a span," more than nine feet tall. Whether we take that literally or not, the point is that Goliath terrified and awed the Israelites.
King Saul himself was a Chris Simms-like character. Scripture describes Saul by saying, "There was not a man among the people of Israel more handsome than he; he stood head and shoulders above everyone else."[iii] Even so, Saul quakes at the sight of Goliath. Rod Babers' comments about Chris Simms in big games are apt for King Saul. Babers says "He added…pressure onto himself in terms of how he had to perform, and he [often] imploded and collapsed."
And that's when ruddy, undersized, underestimated David takes the field, so to speak. With a confidence born of faith in God and himself, David says to Saul, "Let no one's heart fail because of Goliath; I'll go and fight with this Philistine."
In our Sunday school, storybook memories, David marches out, spins his sling, and fells Goliath with a stone. But something else happens first, something crucial and often overlooked. Before David leaves Saul's tent, but after Saul and the gathered champions have agreed to let David fight, Saul hoists upon David the collective, conventional wisdom about how to win, how to succeed, how to persevere in the face of this challenge. Concretely, Saul clothes David in Saul's armor.
It presents a comical image, David weighed down in armor that swallows him and a sword he cannot lift. All those around him insist that these are things he needs to protect him and prevail. But David responds, "I can't walk in this stuff. Take it off!" And he's right. In this passing verse, David reveals the basis of his wisdom, his confidence, his wily assurance of his own success. David knows what Saul does not, what the so-called champions do not, what even Goliath does not: David knows that—no matter how strong, protective, and impressive it may appear—it is foolish to go to battle in someone else's armor. And so, David strips down to the clothing he knows and the tools he trusts, and only then steps out and conquers Goliath.
What a lesson for us. Whether one is eight, eighteen, or eighty, we all live in a world that is constantly telling us, in innumerable ways, what figurative armor we must wear to prevail in life. Culturally, emotionally, familially, politically, and, yes, sartorially, we are told what we must do in order to be beautiful in our bodies, successful in our work, fulfilled in our relationships, happy in our world. And we know, deep down, that often the armor we're told to wear does not fit us. We put on the armor others commend to us, and we cannot move. Rather than protect us or facilitate our flourishing, it weighs us down stifles us, and obscures who we truly are. It is inauthentic. It is not ours, and donning armor that doesn't fit is not never the recipe for flourishing.[iv]
Of course, today in our culture, the most common knee-jerk antidote for shedding the armor imposed upon us is to claim that we should wear whatever we choose, that we be entirely self-authenticating. But that is detrimental in the opposite way: Rather of denying who we are in favor of others' images of who we should be, we instead indulge the self in ways that forget that we bear responsibility for one another, that we, like the Israelites in the tent, are all in this together.
So, how can we know, as David did, what armor to wear? How can we put on what fits usq before facing the great challenge of life? David won't wear Saul's armor, but neither does David build his own on a whim. David is a shepherd. He has spent his life in the wilderness, communing with God. He has fought lions and bears, protecting the weak committed to his care. And thus, when the time comes to face his great challenge, David adorns himself with the clothing and tools that have served him faithfully as he has lived faithfully in service. It is that tunic and that sling that naturally fit and allow him to move with strength and grace, that turn the small ruddy boy into the confident champion.
That's key for us as well. We live in communion with God. We have been taught to love fiercely, and protectively of those who are weak. We have been clothed in grace. When the giants parade before us, taunting and threatening, this is our armor, not hoisted upon us by others and not the product of our own self-desire, but given by God. When we wear this armor and no other—though, like David, we may not look the part of the champion—we need fear no one, and no giant need be fearsome. We move forward into life unconstricted, and challenges ultimately give way, because we are clothed with the grace of God that is all the armor we will ever need. Amen.
---
[i] https://247sports.com/college/texas/Article/Horns247-QA-with-Rod-Babers-Chris-Simms-Major-Applewhite-37829212/
[ii] Ibid
[iii] 1 Samuel 9:2
[iv] This is true of churches, too, by the way. I use this overlooked verse of scripture when I conduct vestry retreats for other parishes, because often when churches are fearful and anxious about congregational decline they begin desperately trying to be more like some other church down the road that seems to be going gangbusters. Congregations will put on some other congregation's armor; they'll mimic someone else's music, or worship, or program; but they soon discover that, figuratively speaking, they can't move. They are paralyzed, trapped in an identity that is not theirs.