"You're not going to believe this, but you have cancer." In retrospect, these may not have been the urologist's exact words when he called me on February 5, but it is accurate that his surprise was as genuine as mine. Fewer than 3% of men diagnosed with prostate cancer are younger than fifty.[i] I am forty-eight years old. Forty-eight year-old men almost never get prostate cancer. Unless there is a family history of prostate cancer, men usually don't even begin having their PSA checked until age fifty. I only began having my PSA checked in my mid-forties because, in an odd coincidence, I have a close friend and colleague who was diagnosed with prostate cancer when in his forties.
PSA is "prostate specific antigen," a chemical produced in the male body only by prostate cells. High PSA levels are the best indication of the presence of prostate cancer. The standard threshold measurement for elevated PSA is 4.0, but that's misleading. That threshold is set for older men. For men under age 60, the threshold for elevated PSA is 2.5.[ii] The average PSA for a man in his forties is .7. In 2017, my PSA was 1.94. In 2018, it had risen to 2.4. Last November, it was 3.41. That steady increase over time alerted my primary care physician, who referred me to a urologist. The urologist ordered an MRI, followed by a needle biopsy. At every step, because of my age and lack of a known family history of prostate cancer, both physicians repeatedly said, "We'll do this next test, but don't worry. Men in their forties don't get prostate cancer. It's an older man's disease." Thus, the urologist's surprise on February 5, when he received the biopsy results.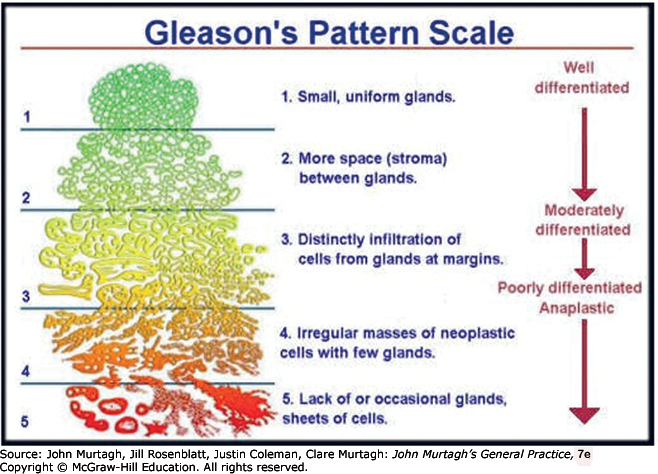 Prostate tumors are graded with a "Gleason score," which describes the nature of the cancer cells. The more irregular the cells, the higher the Gleason score. Said differently, the higher the Gleason score, the more advanced and aggressive the cancer. Pre-cancerous cells are graded 1 or 2. Cancer cells are graded 3-5. Tumors receive two grades: one for the primary cells present and another for any secondary cancer cells present. The final Gleason score is the sum of these two numbers. If the primary cells are 3 and the secondary cells are 4, the tumor's Gleason score is 3+4=7. The lowest (and therefore "best") score a prostate tumor can receive is Gleason 6 (3+3). My needle biopsy suggested that I had a small, fully-contained Gleason 6 tumor in the peripheral zone of my prostate. There was inconclusive evidence that there might be an additional tumor elsewhere. The urologist's counsel was that, though I could pursue immediate treatment if I wanted to, I could also follow an "active surveillance" protocol, in which I'd have regular and periodic PSA tests, MRIs, and biopsies to see if the tumor grew or became more aggressive. He said I might not need treatment for another 2-5 years.
I am blessed to live in Houston, so I sought a second opinion at MD Anderson, one of the world's best cancer centers. I met with both a urological surgeon (Dr. John Davis) and a radiation oncologist (Dr. Seungtaek Choi). Based upon the MRI and biopsy I'd had previously, the MD Anderson physicians, too, offered me the options of immediate treatment or active surveillance. The decision was up to me. On March 16, I decided to move forward with a radical prostatectomy, in which a surgeon removes the entire prostate gland, some surrounding tissue, and the seminal vesicles. The six weeks between diagnosis and the decision to have surgery were, beyond doubt, the darkest of my life. Ignorance, uncertainty and indecision are demons that taunt and lurk around the edges of a health crisis, and all three demons plagued me in those days. As soon as I made the decision to have surgery, the shadows dispelled, and my anxiety washed away. The change in my demeanor was pronounced and immediate.
I needed to get through Easter before having surgery (I'm a priest, after all), and the earliest post-Easter date available on Dr. Davis' surgical calendar was April 26. On that morning, I checked into MD Anderson, and Dr. Davis performed a Da Vinci robotic prostatectomy, making six incisions in my abdomen. (Eliza says I'll look super cool at the beach, like I've survived a knife fight.)
For two weeks after surgery, I recovered slowly but with the felt assurance that surgery had removed a small and contained tumor, and I could now put the entire experience in the rearview mirror. Then, on May 11, I received the post-surgical pathology report, which upended me all over again. The small Gleason 6 tumor was, indeed, contained and successfully removed, but it turned out a much larger, Gleason 7 (3+4) tumor had been hiding in the interior of my prostate. This second tumor had not shown up on the MRI. The second tumor had escaped the prostate capsule and invaded the neck of my bladder. Dr. Davis removed the large tumor along with my prostate, but where the tumor was cut from the bladder neck, he got an unclean margin. (This was not in any way his error. The cancer at that spot was microscopic.)
It took a day for me to reach Dr. Davis, and several days beyond that to visit with Dr. Choi, the radiation oncologist. Those intermediate hours were a return to anxiety and shadow, but the explanation and commentary the physicians were able to offer on the pathology report provided comfort. The character of the Gleason 7 tumor classified it as pT3a, which means the cancer had spread outside the prostate gland but had not reached lymph nodes or seminal vesicles. The not-great news is that such a cancer has about a 40% chance of recurrence within ten years. The very good news is that the fifteen-year survival rate for such cancer is still above 95%. And if the cancer ever does recur, Dr. Choi is confident that radiation and hormone therapy can keep it in check.
This past Monday, June 7, I had my 6-week post-operative PSA check at MD Anderson. My PSA level was <.1, which means negligible. That's exactly what one hopes for after a prostatectomy. On Monday evening, I told Jill that it had been the 4th best day of my life, ranking after my two kids' birthdays and my wedding day.
I have recovered well from surgery. I have returned to the gym, and thanks to Dr. Davis' world-class skills I have been spared the physiological difficulties sometimes associated with life after prostate surgery. I'm still exhausted at the end of each day, but even that is getting better.
I have learned practical lessons from the experience of the past several months. It is very good that I began having my PSA checked in my mid-forties. Though standard protocol is to wait until age fifty, I encourage men otherwise. PSA is simply an add-on test to regular annual blood work. Even if you have to pay a bit out of pocket, ask your physician to include it. It is very good that my primary care physician paid attention to the elevation of and trend in my PSA. It is very good that I followed up with a urologist. And in my case, it is very good that I pursued surgery when I did. Immediate treatment will not be the best decision for every man, but given the pT3a tumor, I shudder to think what condition I'd be in if I'd waited. The ultimate practical lesson is that we must each be advocates for our own health. Even the best physicians work with limited knowledge and diagnostic evidence. Standing up for oneself, listening to one's gut, weighing the best evidence and advice, and making an educated decision are all crucial to one's health and well-being.
I have also learned existential and spiritual lessons from this experience. I am a different person than I was on February 5. Some days, the urologist's exclamation, "You're not going to believe this, but you have cancer," continues to ring true. Occasionally, it seems as if these past few months I've watched my life from the outside, as if viewing a movie about someone else. That I was a cancer patient, and that I am a cancer survivor, feels foreign and strange.
Most days, however, it feels all-too-intimate. And I am glad for that. I wish I hadn't had prostate cancer, but paradoxically, I'm also glad I had it. It is making me a better priest. Empathy for those who receive frightening and potentially life-threatening diagnoses is no longer hypothetical. It is visceral and real.
I've also recognized as I never had before the importance of friends. The Celts speak of anamchara—soul friends—and in these months I've had several. Jill proved, again and again and again, to be the best life partner a human being could hope for (and far better than I deserve). My parents carried enough concern for me that I could set my self-concern down occasionally. The Rev. Morgan Allen, one of my closest friends in ministry and life, was available to me even when I didn't realize I needed him. Julie Janos, my friend for thirty years and a courageous breast cancer survivor, talked me off the ledge and gave me clear perspective when my own was distorted. Parishioner and friend Bobby Tudor, a prostate cancer survivor himself, did the same. Parishioner Dr. Eric Strom, an MD Anderson physician who saves lives daily, helped me navigate the labyrinthine MD Anderson system. The Cathedral wardens and parishioners, as well as Bishop Andy Doyle, ministered to me as the Body of Christ. Not for a moment did I walk alone.
Cathedral parishioners know that I have a serious interest in the wisdom books Ecclesiastes and Job. Tethered to the Gospels, I believe these books convey the most important theology in the Bible. Ecclesiastes, Job, and Jesus teach us to engage the world fully—and to love completely—but also to be non-attached. With Gospel non-attachment, our recognition of the fragility and transience of life leads not to anxiety and fear, but to deep and abiding gratitude and joy. When we learn not to cling, we begin to live. This knowledge was academic for me prior to February 5. I now know it in my soul.
My PSA will be tested again in July and then, because of the pT3a larger tumor, every three months for five years. I am someone who craves resolution, and another lesson cancer is teaching me is to learn to live with something that, by definition, will never resolve (or, will only resolve—as do all things—when I go to meet my maker). My cousin Dinky Spears, who is battling cancer herself, taught me not to call the tumor "my cancer." Cancer is something to expunge, not own. I agree with Dinky. That said, this has been, and on some level will continue to be, my cancer journey. As with all spiritual journeys, it is as much about the path we take and those with whom we travel as it is about the destination. For the path and the companions, I am eternally grateful.
---
[i] https://www.cityofhope.org/stiller-prostate-cancer-diagnosis-and-case-for-early-screening
https://www.verywellhealth.com/prostate-cancer-causes-risk-factors-2782036
[ii] https://www.hopkinsmedicine.org/health/conditions-and-diseases/prostate-cancer/prostate-cancer-age-specific-screening-guidelines#:~:text=For%20men%20in%20their%2040s,1.0%20and%201.5%20ng%2Fml.