Several essays in my book In the Midst of the City have led to spirited and challenging interactions with readers, either in person or online.  As recently as this past week, I had a fruitful debate with someone over the book's essay on gun regulation.  Other essays that have sparked the most conversation focus on Southern monuments and the 2016 presidential campaign.  No surprise there.  (By the way, In the Midst of the City is available in the Cathedral bookstore.  You can purchase your copy and schedule a debate with me, too!)
Last year when the book was being prepared for publication, I asked several people to review it.  A single essay in the book irritated one reviewer, and to my surprise the essay was not one of the usual suspects.  Neither immigration nor human sexuality provoked a response.   Rather, the chapter that irked the reviewer was my essay on Mary and Martha.
Let's hear the Gospel again: "Now as they went on their way, Jesus entered a certain village, where a woman named Martha welcomed him into her home. She had a sister named Mary, who sat at the Lord's feet and listened to what he was saying. But Martha was distracted by her many tasks; so she came to Jesus and asked, 'Lord, do you not care that my sister has left me to do all the work by myself? Tell her then to help me.' But the Lord answered her, 'Martha, Martha, you are worried and distracted by many things; there is need of only one thing. Mary has chosen the better part, which will not be taken away from her.'"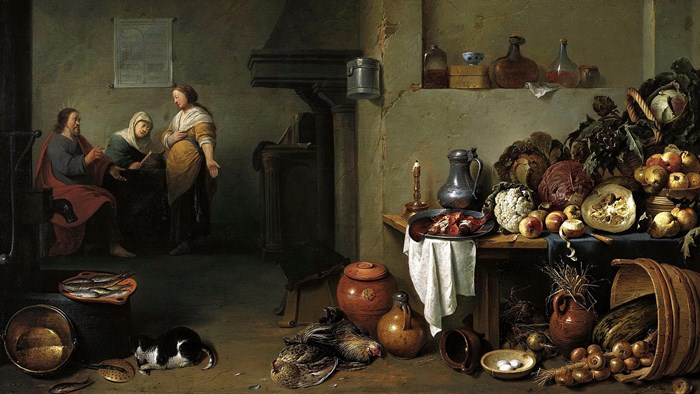 In my book's essay, I faulted Martha for her busyness, and the book's reviewer reacted defensively.  I get that.  I'm really busy.  So are you.  And we put a premium—we often judge our very worth and the worth of others—by the gauge of our busyness.
If you doubt it, recall the favorite and most often retold story from Dean McGehee's tenure at the Cathedral.  In the middle of a worship service, as Pittman is coming down the center aisle, an unknown woman in a red pantsuit leans over and claims that she is Jesus, or at least that she sees Jesus (depending upon who is telling the story).  Pittman gets to the altar and asks Canon Logan, "What if she really is Jesus?  What should we do?"  To which Canon Logan responds, "Look busy."
Canon Logan speaks for all of us.  If the Lord returned we would do our best to appear as if we were actively, busily engaged in productive and constructive tasks, whatever that is for each of us.  It is the old Protestant work ethic in a twenty-first century guise.  The more our wheels turn, the more worthy we must be.  As we run and run and run to get done all the things that need getting done, Jesus' words to Martha wound us.  Jesus seems neither to understand nor to care what our real lives are all about.
A closer look at the Gospel text reveals, however, that nowhere does Jesus indict Martha for the tasks she undertakes.  Martha is engaged in hospitality, after all.  She is opening her home and providing sustenance to weary travelers, including Jesus himself.  Her busyness (more than mine most of the time) is truly laudable.  So then, what is at the heart of Jesus' critique?
"Martha," Jesus says, "you are distracted by many things."  Jesus is not, it turns out, unempathetic toward Martha.  Jesus, whose own ministry keeps him busy at a frenetic pace, is concerned for her.  But it is not the value or even quantity of Martha's tasks that are the locus of Jesus' concern.  He is concerned about her distraction.
What is distraction?  The most comical image is of "Dug" the talking dog in the Pixar film Up.  Dug can be in the middle of any conversation and suddenly—Squirrel!—find his attention diverted by whatever catches the corner of his eye.  We laugh, but a bit uneasily.  Distraction prevents us from being truly attentive to what is before us.  It keeps us edgy and uncentered.  It is that background voice saying "Hurry up!" in the midst of even our most important moments that inhibits us from being truly present to the experience.  Distraction may be the most common attribute in our lives.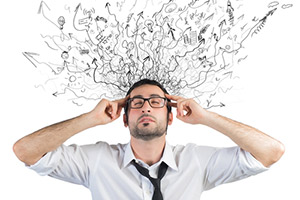 The author Philip Simmons developed Lou Gehrig's Disease in his mid-thirties, and as his body slowly failed, he learned to pay attention to the world around him.  But first he became, for the first time, deeply aware of his own distraction.  He says, "Seems it's always time to be doing something other than what we're doing at the moment.  While reading in your chair, you find yourself thinking about last night's argument with your spouse; you're thinking that it's time to rake leaves, check your email, get some sleep, get to work, pick up the kids, feed the boa constrictor, water the chickens, exercise the gerbils."[i]
Simmons' litany is intentionally ridiculous, because so are the things we allow to distract us in our lives.  As his illness progressed, Simmons remained very active, busy even, but he learned, no matter where he was or what he was doing, to be attentive to the present moment.  He says, "The present moment, like the spotted owl or the sea turtle, has become an endangered species.  Yet more and more I find that dwelling in the present moment, in the face of everything that would call us out of it, is our highest spiritual discipline.  More boldly, I would say that our very presentness is our salvation; the present moment, entered into fully, is our gateway to eternal life…You might say I want my eternal life now, before it's over with."[ii]
Simmons is more right than he knows.  When scripture talks of eternal life, we mistakenly interpret that as the afterlife, where we go when we die.  But that's not what scripture means at all.  Eternal life in the Gospels means the life lived in awareness that all moments are embraced and enveloped by God.  It is a character of being in which we have the opportunity to participate not only or primarily when we die, but now.  It is that awareness into which Jesus invites us whenever he speaks of eternal life.  It is that awareness that Mary enjoys and Martha fails to grasp, because the greatest enemy to it is distraction.
What does participation in eternal life look like?  Philip Simmons offers, "Dwelling in the moment, on our breath, on the works of our hands immediately before us, we're drawn into life's luminousness, into the mystery at the heart of ordinary things.  Dwelling in the present, at least at first, involves forgetting the past and future, stopping the mind's whirlwind of memory and expectation…with further practice we may find past and future returning to our awareness, only now without bringing anxiety or distraction along with them.  Instead, we become aware of living in eternity, knowing that this moment has found its proper place in the stream of all time.  When we feel this way, the present moment enlarges, draws past and future into it, until we are dwelling not just in the moment but within the whole of life…We feel in touch with life's unchanging essence, the bedrock beneath the flowing stream. We enter the eternal life beneath the surface of this passing one."[iii]
Not long ago Junior Warden Andre Jackson told me, without realizing the depth of what he was saying, that this is a major difference between parenting and grandparenting.  For parents (at least for this parent), even in the most tender moments with our kids we are constantly thinking about the next thing, distracted from what is right in front of us, whereas the grandparent, at a different place in life and with a better understanding of its transience and fragility, savors the present miracle of a grandchild, soaking in the blessing of her presence in the world.
This—this being truly present to the present moment, whether it be active or still—is the "one thing" of which Jesus speaks today.  It is our only need, the "better part" without which life is incoherent, unsteady, and always off center.  With it, we enter eternal life even now.  We encounter and connect with the God who grants us the miracle of our presence in the flow of time, in a world of grace.
[i] Simmons, Philip.  Learning to Fall: The Blessings of an Imperfect Life, 145.
[ii] Ibid, 145-146.
[iii] Ibid, 147 & 149.